FRONTIER FORKS - TOO HEAVY FOR COMPACT TRACTORS!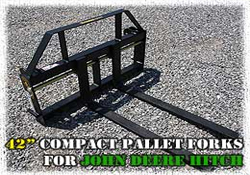 Lighter Weight Forks Available? The biggest complaint about the Frontier Line of Pallet Forks for John Deere Tractors is that they are just too heavy. You see, the lift capacity of a tractor includes the weight of the attachment as well.
So if your tractor loaders lift capacity is 1200 lbs. and your Frontier Forks weigh 400 lbs., this leaves you the ability to lift only 800 lbs. with your tractor. Construction Attachments manufacturers John Deere quick hitch pallet forks that weigh only 220 lbs. and still rated to lift more than your tractor's loader.
You can Order John Deere Style Pallet Forks for CX Loaders with all the strength, but without the weight!
Quick Attach Pallet Forks for Compact Tractors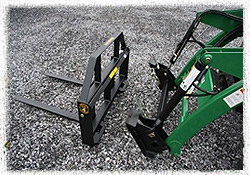 Aside from John Deere, most Compact Tractor Manufacturers recognize the added benefit of having a universal quick attach hitch on their compact tractor loader models.
Allowing the tractor owner to choose which brand of attachment they put on their loader is important! This is especially important to tractor owners who are considering changing brands of tractor, John Deere is usually not an option because they will not be able to use the attachments they already own.
Utilizing a universal quick attach hitch on your compact tractors loader would open up a huge variety of choices when it comes to picking the right attachment manufacturer and style of equipment. Pallet Forks are no exception to this rule.
compact pallet forks - what to look for . . .
Construction Attachments, FFC, and Bradco John Deere Quick Hitch pallet forks as well as their universal quick attach forks are first and foremost . . . Made in the USA.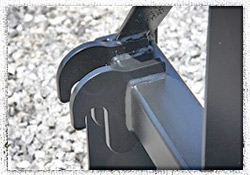 Why is this important? Because there are a lot of manufacturers beginning to produce their attachments in China. With little to no control over the quality of forks produced, you can be sure that it will not be made to use and abuse day in and day out.
If you have a John Deere loader, then odds are that you have their particular quick hitch system. Be sure the forks that you order are made specifically with this hitch style or you will be sorely dissapointed when they do not work with your tractor's loader.
Look at the WEIGHT! Know your tractor loader's lift capacity, then use a set of forks that are rated above that capacity, and are the lightest in weight. This will allow you to increase the working weight of what you can lift with your new pallet forks.